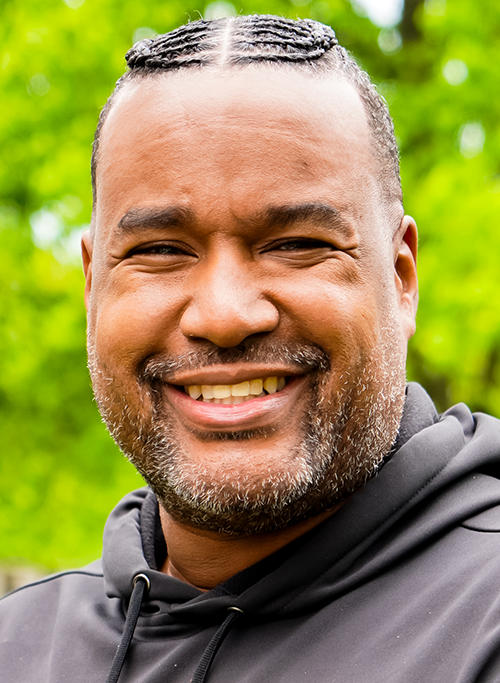 Pastor Randy Pike
Global Youth Pastor, OffScript Youth Ministry
The proud Husband of Alexis for 18 years, honored to be called Dad by Randi (16), Malachi
(14), and Aiden (11). Truly an example of Proverbs 22:6; "Direct your children onto the right
path, and when they are older, they will not leave it."
Randall's loving parents Maurice and Alcine introduced him to Christ at a young age and he
hasn't departed since. Affectionately referred to as the middle – meant to be here – child, is the
proud brother of Craig and Brian. A native of Prince George's County, Randall Graduated from
Largo High School, and attended Prince George's Community College in Largo, Maryland. His
proven dedication afforded him the opportunity to attend Morgan State University (MSU) in the
fall 1998, where he obtained a Bachelor of Science degree in Telecommunications. He returned
to his roots in Prince George's County Public Schools as a teacher of Digital and Visual
Technology. In 2006, while still serving as Technology Coordinator, Randall and Alexis started a
videography and photography production company --That's a R.A.P. (Randall Alexis Pike) Video
and Photography. In the same year he was promoted to a television specialist with the Office of
Communications, where he would eventually fulfill a leadership role as the Digital & Visual
Communications Supervisor in the same Office.
A member of Largo Community Church for more than 25 years, undoubtedly was the fertile
ground where his personal relationship with Christ was rooted. He's naturally gravitated to
leading Youth Ministry where he had a desire to tell the youth about Christ in the same manner
that he was, at such a pivotal age. In 2017, Randall and Alexis made the tough decision to leave
LCC to attend Zion Church. In 2018, they joined the church's relaunched Youth Ministry;
Offscript, as volunteers. In-coincidentally, his professional career began to merge with my
ministry. In 2019, at the onset of the Covid19 pandemic, he became a part time employee at ZC
as the Creative Director for OffScript Youth Ministry. In 2022 He officially became a full time
Youth Minister/Director over two of our 5 campus's Youth Ministries. Randall loves to engage
in creative ways of ministering. He often uses comedy, skits, videography, and photography to
introduce someone to Christ. His overwhelming desire to introduce people to The One who
loved humanity first is a reflection of how he serves; unselfishly.